We build custom software for innovative organisations—for people who want to lead their industry in productivity, insight, and customer service.
And for that job, we don't know of a better platform than FileMaker, a database platform that is fast to develop in, extremely versatile, and delivers on Mac, Windows, Mobile and Web.
We know it. We love it. We live it!
Latest Happenings at Team DF…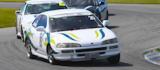 Get Ahead with the
Digital Fusion 2K Cup!