What is a placeholder label?
Sometimes also called an in-line label, a placeholder is a field label that appears inside a field when that field has no value. For the rest of the article to make things less confusing we'll call it a placeholder label.

A placeholder label is a valuable UI tool. Firstly, it frees up space on your layout by having the label occupy the same space as the field. Secondly, there are some fields which don't constitute the need for a label to be visible at all times. Consider an e-mail address.  When a valid e-mail is entered into the field, it is obvious to almost everyone what that data represents, so to tell users that it is an e-mail address is somewhat redundant. Using a placeholder label for this field will free up space otherwise occupied by an unnecessary label.
Sometimes placeholder text can help further describe a field in addition to a label that is always visible. Lets take a date field on a layout labelled "last contact" :

This field is to have a date entered for the last time the customer in question was last contacted by the individual.  Simply taking "last contact" alone is not enough information to know what should go into the field. Is it the last contact who worked for the customer? Is it the name of the last person who someone spoke to? Or does (as in this case) contact refers to a date communication was made?  Sometimes a placeholder label can supplement the primary label to give additional information as to what should be entered in the field. Once the information is entered, the primary label is sufficient to describe the value.
FileMaker 14 Makes them so much easier
Prior to native placeholder text in FileMaker 14, placeholder labels were possible, but nowhere near as easy to implement, nor did they function in such a nice way.  The standard way to do a placeholder label was to overlay a text label on top of a field, and either conditionally format it (pre FileMaker 13) or hide it (in FileMaker 13) when the underlying field was not empty.  This method suffered from a couple of problems. First of all the label would disappear as soon as the user clicked into the field.  If you were able to resolve that issue through some transparency trickery, then the next issue was the label would not disappear as you began typing (again this could be resolved through script triggers), but what a hassle!
In FileMaker 14 it is so simple. Placeholder text is defined as part of the layout object, and can be specified on the Data tab of inspector: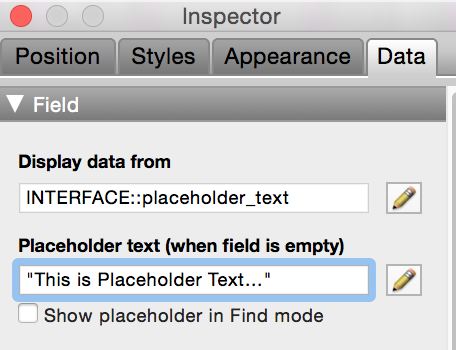 The text appears in browse mode (and find mode if you use the checkbox option) when the associated field is empty.
You also have full styling control over the placeholder text via the appearance tab: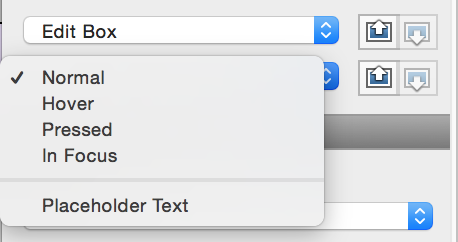 You can even reveal the placeholder text while working in layout mode by placing your mouse over the new placeholder badge on the layout object (note this actually now works in 14 for all types of layout/object badges, try it!):

An awesome secondary usage - a layout calculation display engine!
You may have noticed above the little edit icon next to where you define the placeholder text. This will open the calculation dialog allowing you to specify the text to be whatever you want. 
Boiling all this down to its core - you can define text to display in a field via calculation. What if that text was not necessarily a label, but instead a summary value, a text display, a warning, an error check, and so on?  Why not use placeholder text as a means to display calculated values direct on a layout?
Why not indeed!
To do this all you need is a global field that is non-enterable and will never have a value. In this state, placeholder text will always display. Then simply define your text using the calculation, and format it how you want using the styling options, it's just that simple! Style the field itself to be visually hidden to replicate a calculated piece of text.
Why would you want to do this, what's wrong with calculation fields?
Nothing is really wrong with a calculated field to achieve this, and it will still work in FileMaker 14. There are however a number of benefits to your solution for using this method:
Fewer UI related calc fields in your schema, keep your tables for data only
Keep display where it belongs, on layouts
works great with executeSQL and portals, define placeholder within portal contexts
Text formatting functions work great with it, alter colour of your display within the calculation
Overall we see the biggest benefit is simplifying your tables and removing UI related fields and relationships.  Just be careful of overusing this when it comes to FileMaker WebDirect solutions!
Example File
To accompany this article we have produced a lovely demonstration file to give you some ideas as to how you can use placeholder text and how it can be setup. 
Please note that because this file is demonstrating a FileMaker 14 feature. While we have not restricted access to the file to FileMaker 14 only, if you try to open it in FileMaker 13 don't be surprised if you don't see much of any use :)